Veri-fy update
Veri-fy , the next generation service from Veri-fy is designed to work with Organisations submitting DBS disclosure applications both on paper and via E-bulk.
Instead of sending paper-based Veri-fy forms applicants are sent an http: link via an email or directed to a page on the Organisation's website.
Having filled in their DBS application either on line through an e-bulk integrated system or on paper, the applicant then completes the Veri-fy form online.
The applicant then chooses a person to confirm their identity from a list of approved by the Organisation.
The applicant's identity and address are verified as now. The person confirming these completes an online form accessed via the Veri-fy website.
A report is emailed to the Organisation. This includes details of the documents produced and a photograph of the applicant if requested.
Using Veri-fy enables
Organisations to reduce costs
Gives a choice of ID checkers to both the Organisation and applicant
Allows the applicant to pick convenient a time and place for their ID check to take place
Give an immediate report once the check has been completed
Use of Veri-fy with Ebulk applications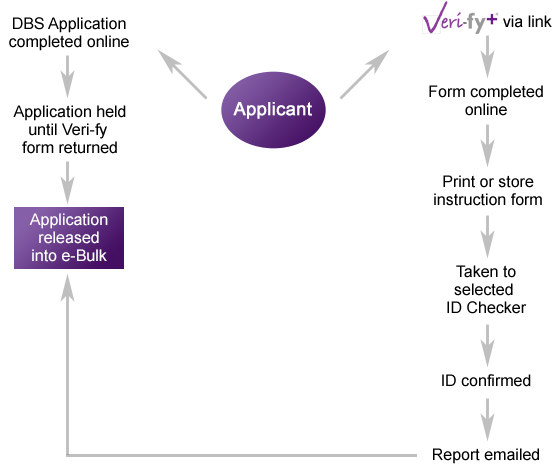 Use of Veri-fy with paper based DBS applications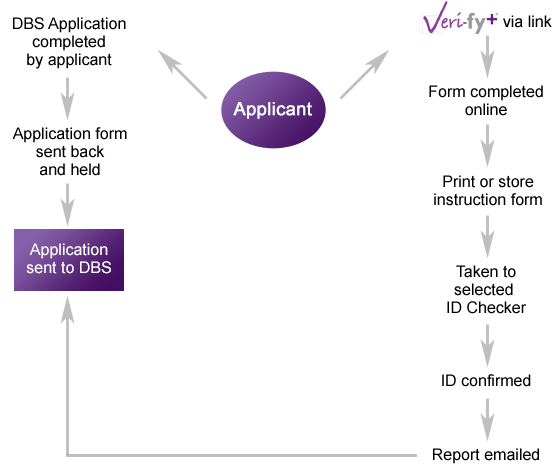 Using Veri-fy cost no more than the existing Veri-fy service but saves postage costs and allows the applicant immediate access to the service.
For details of the Veri-fy process: Veri-fy Plus notes.pdf
To become a Veri-fy user register via: www.veri-fy.co.uk/servlet/UserDetails