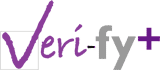 Please Enter The Access Code
Thank you for agreeing to confirm the identity of the person who has given you an Access code to our service.
The purpose for confirming the person's identity is to support an application for a DBS disclosure. The applicant has already consented to us holding some of their personal information for a specific period of time. Should that period of time have been exceeded you will not be able to confirm their identity. If this is the case, you will be told only as you progress through the ID checking process.
To confirm the person's identity, you will be asked to input certain information about yourself.
The only information Veri-fy retains is your name and the type of checker you are together with the date and time you completed the check. We keep this information for no more than six years and use it only for audit and invoicing purposes.
We only share this information together with the other information you provide with the organisation who has asked the person to have their identity confirmed. This information is so the DBS application process can be completed. It is given to the organisation in a form which cannot be processed by them. The organisation may contact you if they have any question concerning the ID confirmation.
Details of how we handle personal data can be found in our Privacy policy
Further information and assistance is found on the next page